Enterprise Orchestration Maturity Model
Enterprise Orchestration is the next-gen model for transformation execution
Driving 3x success over traditional methods
Schedule your 30-minute
Enterprise Orchestration Maturity Model Assessment
to gain new insights on where and how
to evolve your transformation capabilities.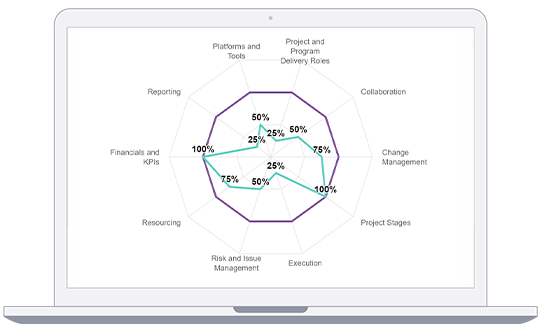 No cost. No pre-work required.
During your Enterprise Orchestration Maturity Model Assessment meeting you will learn:
detailed insights on where and how to improve your team's performance relative to the 10 key dimensions for Enterprise Orchestration

how Enterprise Orchestration (i.e. next-gen project management) improves governance, visibility and results while decreasing risk

how an Enterprise Orchestration model is different and why its quickly emerging as the proven new delivery model for enterprises around the world

your team's Enterprise Orchestration Maturity score, which can serve as a baseline upon which to track your evolution, as well as know how your team compares to other organizations,
At the conclusion of the 30 minutes, to support you in your evolution to Enterprise Orchestration, you'll be immediately provided a presentation deck of your Assessment results (based on your individual survey answers provided during the meeting), including our recommendations based on your current state, for your use in future planning, reporting and team coaching.
We are a proven leader in next-gen transformation execution, and we're proud to share what we've learned over the years to improve enterprise success. We simply think of it as Transformation Transformed.
Welcome to the Enterprise Orchestration Era!